You can use the Bundling Workspace to create a Court bundle.
Create sections, upload PDF documents then arrange and order your documents. You can annotate and redact document sections. You can create a custom cover sheet, apply customised labels and numbering, view your bundle as a Virtual Binder and when it is ready, export it as a PDF.
Create a Bundle

1. Click 'Create my first bundle'.


2. Give your bundle a name, add your case number, then click 'Create'.




Create Sections

3. Click 'Create Sections'. You need to create a section before adding documents to your bundle.


4. Enter a section identifier and give your section a name. You can tick 'Create another section after this one to add additional sections. Click 'Create'.


5. Click on a section to open it.




Upload PDF Files

6. Click 'Add Files' to add individual documents or click 'Add Folders' to add entire folders into your workspace.


7. Select the file(s) or folder(s) you would like to upload and click 'Open'.


8. When your files have finished uploading, click on a document to open it.





View, Highlight, Redact and Expose

9. Use your cursor to scroll through the document in Document View. You can use the options on the right to zoom in / zoom out, view an entire page or view the document page width.


10. You can use the highlight tool to highlight sections of your document.


11. You can use the redaction tool to redact sections of your document.


12. You can use the expose tool to expose areas of your document underneath your redaction.


13. You can click anywhere on the document to add an annotation or use the Marker tool on the right. Enter your note into the text field on the grey toolbar at the bottom. Click the rubbish bin icon to remove your annotation.


14. Click 'Close' to return to the Folder View.




Arrange Files in a Section

15. You can arrange and reorder the documents of your sections by clicking on the grey bar in front of the documents.


16. Drag and drop your document to reorder it.


17. Document dropped in the new order.





Move Files between Bundle Sections

18. You can move documents between your bundles sections by ticking the box next to the documents you'd like to move, then clicking 'Move Selected items'.

19. Next, click the section you would like to move your documents to drop them in.

20. Click on your bundle section to view the documents you've just moved.


Add / Create a Custom Coversheet

21. Click 'Edit Bundle Properties'.


22. Next, scroll down to 'Coversheet Settings and click the drop-down menu to display the cover sheet templates available to you.


23. Select a coversheet template or select 'New Blank Template' to open the editor and create your own. You can create a custom bundle coversheet, inside cover card, spine insert and apply an index header for your bundle binder. Your coversheet templates will appear at the bottom of your exported bundle.



Export your Bundle as a PDF

24. When your Bundle is ready for the courtroom, you can export it as a PDF. Click 'Export Bundle as PDF' from the 'Actions' menu.


25. Safelink will build your report and when it is ready click 'Download'.


26. Open your report to have a look.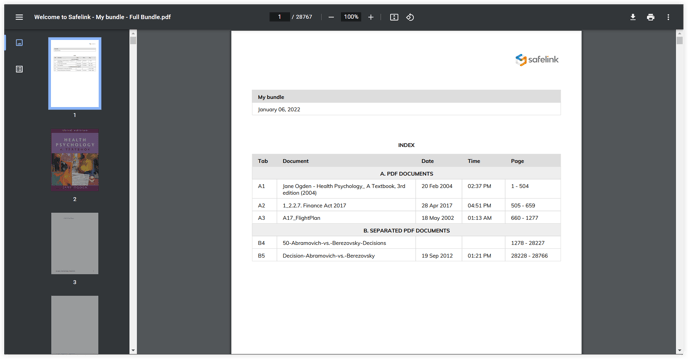 | Please note that, should your workspace be accessible by external parties or 'non-friendly parties', [folder permissions](/en/article/how-to-set-folder-permissions-1xfkla/) that apply to the documents area do not apply to bundles. Any document added to a bundle will be viewable to all users within this workspace. To ensure security of your bundle, we would recommend you build your bundle in an internal/team workspace and then publish it in a customer workspace for review.